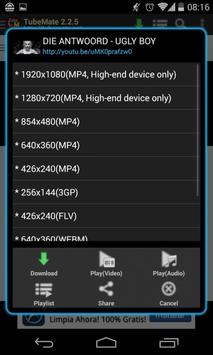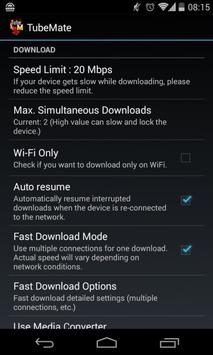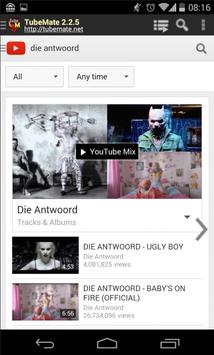 Ytmate - Youtube mate allows you to convert and download your favorite music and playlists from Youtube in MP3 without registration. It is one of the most famous Youtube to mp3 converter.
Application Description:
Free online Youtube downloader
Download HQ Video and MP3 for any YouTube video. Enter the Youtube Video URL, in the Text box below and then click on "Download" button.
Copy your YouTube video link and paste it in input field
Choose MP3 as the output format
Click on "Convert" button to start the conversion
The tool will convert your YouTube videos to MP3 files
The Video Resolutions available are:
1080p (.mp4) full-HD
720p (.mp4) m-HD
360p (.mp4)
240p (.mp4)
144p (.mp4)
Audio Formats:
.mp3 .aac .ogg .m4a .wma .flac .wav
Video Formats
.mp4 .m4v .mov .flv .avi .mpg .wmv
By using our online tool you are accepting our terms of use.
TubeMate for Android
The Android version (
TubeMate
) allows you to download and listen to YouTube videos and music directly on your Android device!
TubeMate for Android Main Features
- Fast download mode(with multiple connections for a download)
- Multiple download resolution options
- Background, multi-download
- Resume downloading
- Convert to MP3 (powered by MP3 Media Converter)
- YouTube search and related videos suggestions
TubeMate YouTube Downloader enables you to quickly access, search, share, and download YouTube videos.
Because downloading always happens in the background, you can go on watching YouTube, surfing the Internet, tweeting, and listening to your music as you download.
How to Install TubeMate on your Android Smartphone
-
Tubemate apk Download
- When tubemate apk is downloaded tap on the apk on your device to start installation
- In case the installation is blocked, you might need to allow installation from 'Unknown Sources'. It is recommended to check 'Allow this installation only' for security.
- Some device might ask to select a package installer.
- Now you can process the installation of new version of TubeMate.
How to convert youtube videos to MP3
With Tubemate, you can download a video as an audio file(MP3 or M4A/AAC) or convert downloaded one. M4A/AAC format provides better quality and processing time than MP3 format. Most of Android devices and MP3 players support M4A/AAC
Downloading audio
- Click 'Downloads'
- Choose the 'Audio' format
Converting to audio
- Click the video option in the Download list.
- Choose 'Extract Audio(MP3)'
- Continue according to following instruction.
How to download video files and resume downloading
Downloading videos
- Choose video to download in the youtube screen.
- Click download button on the top.
- Choose the resolution you want to download, then click 'Download' at the bottom of the screen. (You can also just watch the video streaming in the chosen resolution by clicking 'Play'.)
- When it starts to download, its status is shown in the notification bar.
- Pulling down notifications bar, you can see the status and information of your downloading video.
- You can see the download status also in the download list.
- When downloading is completed, you can play the video in the download list by touching it, or do more via menu button.
Resuming video download
When downloading stopped for any reason, you can just continue to download it from the part it stopped by 'Resume' feature. This might not work on some video sites other than YouTube.
Touch menu icon of stopped video.
Choose 'Resume' to continue downloading.
How to change download folder
- Choose the 'preferences' in the menu.
- Choose 'Folder for Video' or 'Folder for Music'.
- Now you can change download folder or create a new folder.
How to change video site
Tubemate supports downloading videos from various video sites as well as from web sties with standard HTML5 video contents.
- Touch the button located at the top left of the screen.
- You can choose a site from the list or input an URL directly.
How to use playlist
Tubemate provides its own video/audio playlist features.
1-
Adding to playlist
You can add a downloaded vide to a playlist by choosing 'Add to playlist' in the option menu of the video in the download list.
You can also add a streaming video to a playlist by choosing 'Playlist' button after clicking download button.
2.
Creating a new playlist
'Current List' is a default playlist and you can add a new playlist by clicking add button at the top right of the screen.
'Current List' maintains list of the video currently being played and will be cleared when Tubemate is closed.
3.
Adding video to the new playlist
If you choose the playlist you created, the video is added to the list.
4.
Managing playlist
After pushing an item for a while, you can arrange order of the item or remove it from the list.
5.
Playing playlist
By clicking play button on the top, you can play a playlist.
How to uninstall Tubemate
- Go to 'Settings', then choose 'Application Manager'
- Choose TubeMate to uninstall.
- Click 'Uninstall'.
[YouTube] Personalized features and settings
You can use various useful features and settings which are provided by YouTube mobile site.
1- Personalized features(Sign in required)
- Favorites
- Playlists
- Subscriptions
- My videos
- Inbox
- History
2- Settings
- Language
- Location
- Safe Search
[YouTube] 'Safe Search' for children
- Click 'Options' at the top right of the YouTube screen
- Click 'Settings' menu
- Change 'Restricted Mode' to 'On'
Frequently Asked Questions
I can't download anything
Did you get the error : EACCES (Permission denied) ?
Please check download folder. It means TubeMate can't access the folder.
You can change download folder in the preferences.
KitKat(4.4) users : Please install the latest version
Google blocked SD card access of general applications. So, you can download only on the internal storage and some specific area of SD card.
Please check whether you have enough storage.
In most cases, it is caused by 'not enough storage'.
Please delete unnecessary files and try again.
I can't download HD videos.
Please install the latest version
It could be caused from the change of YouTube.
I always try to publish fixed versions as soon as possible.
If you keep the latest version, It will be fixed soon.
Many videos don't have HD qualities.
You can try to search 'HD' keyword to check you can download HD videos.
Some devices can't get Full-HD videos yet.
To get full-HD or higher resolutions, MP3 Video Converter is required. But it doesn't support some type of CPUs (intel, mips and armv6) yet. We are currently working on it. So please stay tuned for updates.
Downloading speed is too slow.
Basically download speed depends on the condition of your network. TubeMate just maximizes network utilization with multiple connections.
Please turn off 'fast download mode' in the preferences. 'Fast download mode' could be slower on bad network condition.
Please adjust the options for fast downloading at the preferences.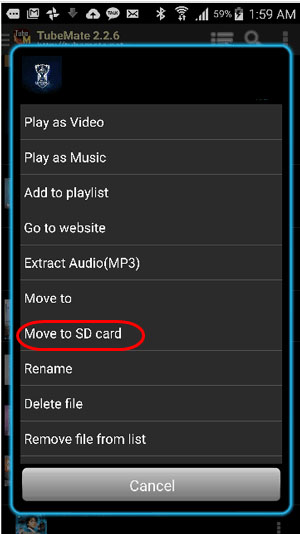 How can I download videos to SD card.
KitKat(4.4) and higher versions
Google limits applications from accessing external storage(SD card). So, TubeMate can access only a specific area of SD card.
And another problem of using SD card is that when you uninstall TubeMate, all files in the specific area for TubeMate on SD card are automatically removed.
You can still change download folder to SD card in the preference. But we strongly recommend to use internal storage for above issues.
If you run out of internal storage, you can also move downloaded files to SD card using 'Move to SD card' in the option. (see below) Jellybean(4.3) and below
By default, video files are saved into '/mnt/sdcard/Video' and '/mnt/sdcard/mp3?
In most recent devices, they might be located in the internal storage. You can change download folder to external storage (SD card).
Why should I install MP3 Video Converter?
YouTube is streaming high resolution videos with DASH(Dynamic Adaptive Streaming over HTTP) format.
DASH format is not for local video file and it is required to be converted to a proper format to play. 'MP3 Video Converter' does the conversion of high resolution videos.
With installing 'MP3 Video Converter', you can enjoy high resolution videos and audios.
I can't watch downloaded videos.
Can't watch downloaded videos.
Please download lower resolution.
Some devices can't play higher resolutions. You can also try some 3rd party video players which support higher resolutions like MX player to play the downloaded video .
Please turn off and on your device and try again.
Sometimes Android video player can temporarily stop working and simply restarting the device solves it.
Please delete and download the video again.
The video could have been broken while downloading and just re-downloading can fix it.
Can't watch video in the YouTube screen.
Some videos in the YouTube are not supported by YouTube mobile site and Tubemate can't just download them. Please find other supported videos.
If you only hear audio but don't see video, it could be an Android 4.4 issue which Google and YouTube should fix. You can still download videos and just turn off 'Play on page' option in the preferences.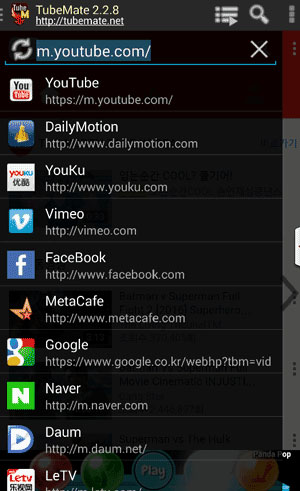 How can I remove weird captions?
TubeMate 2.0 downloads caption file on YouTube by default. Videos with captions have the 'CC' mark.
But there are so many messy captions on YouTube.
You can remove captions easily.
Delete caption file.
You can delete it in the video item menu.
When the caption is removed, the mark 'CC' will disappear.
Disable caption downloading. You can disable it in the preferences.
How can I clear search history
Clear Local search history. If you type any character, you can see 'Clear history'.
Clear YouTube search History
You can delete your searched history in the youtube preferences.
I've got a verification page.
Did you get a verification page ?
Don't worry too much. If you enter the CAPTCHA code correctly, you can use TubeMate again.
How can I play 3D or 360 videos.
TubeMate can download 3D or 360 videos. But in order to watch them, you need a special player. When you watch them on TubeMate internal player or normal video players, it will look weird.
Please try one of them from play store to watch your 3D or 360 video.
360 video player view Panorama 360 degree
3D VR Player-3D Movie Video
I can't install TubeMate
- Please check whether there is enough space to download the installation file(.apk).
- If you already have TubeMate, please uninstall it first.
- Please check whether there is enough space for applications. Android has a separated storage for applications. So, if it gets full, you should uninstall less-used applications or move them to sdcard.
- If you can't push install button :
- Did you install screen filter apps like '2x Battery' or 'Screen Filter'?
- There is the report that such apps can block the installation of other applications by the bug of Android. Please uninstall them and try again.
Why does update dialog show up again even though I updated it?
- You could have two TubeMates – old one and new one.
- You might run the old one by mistake.
I got disconnected while downloading.
Various reasons causes it.
- The poor connectivity between youtube and android device. (Transport endpoint is not connected, Socket is not connected, Connection timed out, …) It is the known issue of android platform from which every application suffers. If you are suffering from it too frequently, I recommend you turn off 'fast download mode' in the preferences.
- Killed by Android OS. (The job is no longer available) Android kills background applications automatically when it requires more memory. If it happens frequently, please Don't launch other applications while downloading.
- Not enough storage When you don't have enough storage, downloading stops automatically. Fast downloading requires more memories to merge fragments into a file. You can try to turn off 'fast download mode' in the preferences.
- Broken network (Broken routing) It is the problem of the network between your device and youtube. You can try to turn off and on your device, then try again.
Failed to play downloaded video.
TubeMate just downloads video files encoded by YouTube. TubeMate doesn't convert them. But some devices doesn't support playing high resolutions and FLV from YouTube.
- Please try the lowest resolution (e.g. 320×240). Some devices doesn't support high resolutions or some file formats(e.g. FLV)
- Please reboot your device. Sometimes the video player on Android becomes a mess. You need to reboot your device in this case.
- Please Try 3rd party video players like 'MX Player', 'Mobo Player' and 'Soul Movies' * Video players supporting software decoding could fix the problem.
- Please wait until downloading and merging are completed 'Fast download mode' requires merging fragments into a file. If you play the video before downloading is completed, it can cause an error.
- Please delete the file and re-download it. Data could be broken while downloading because mobile network is not that stable.
- Are you downloading other videos? If you play a video while downloading other videos – many vidoes, it makes your storage overloaded. It can cause an error on playing. If you turn off 'fast download mode', it will be alleviated.
I can't find videos on TubeMate which is shown on YouTube in the PC
TubeMate uses mobile YouTube(http://m.youtube.com) and YouTube restricts some videos in the mobile mode. So, TubeMate provides 'Desktop Mode'. You can choose it by choosing 'menu > desktop mode' on your device. But, Be careful! 'Desktop mode' can make your device extremely slow.
Why downloaded videos don't show up in my gallery?
Some android devices show videos only in sdcard. So, You should change download folder to external sdcard.
Download TubeMate for Windows
TubeMate is an Android application and it works only on Android devices, to use TubeMate on your PC we recommend to use bluestacks Android Emulator. To download and use TubeMate app on your PC and use it, please read following steps:
1:
Download bluestacks for your PC
and install it.
2:
Download tubemate apk for android
3: Now open bluestacks on your PC.
It may take up to 40 seconds, depending upon performance of your PC to get started on bluestacks.
4: On the top of bluestacks you can see 'My apps', 'App center' and 'support' tabs.
5: Click on My apps after bluestacks fully starts which is notified by a loading thread on bottom.
6: On the My apps screen, you can see a + (plus) sign along with 'choose apk' below it. Click on this item.
7: Now it will open the window where you can select the downloaded vidmate.apk file and wait some seconds to finish installing.
8: Now TubeMate will be installed on bluestacks. Enjoy downloading movies and videos on your PC.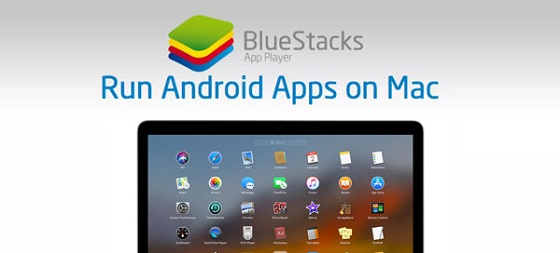 How to install TubeMate on MAC, iPad and iPhone
In order to download and install in your Mac. You are advised to follow these steps:
1- You need to download Android emulator i.e.
Bluestacks on your Mac
.
BlueStacks for Mac is the first production software that allows you to use your favorite mobile apps on a Mac. You can download apps like Angry Birds Space, Candy Crush Saga, Telegram, Temple Run 2, Evernote or Documents to Go directly into BlueStacks for Mac, or sync the apps from your phone using the BlueStacks Cloud Connect Android app. Basiclly this application is an Android emulator for Mac.
2-
Download tubemate apk for android
3- Open your Bluestacks and copy the downloaded Tubemate apk to BlueStacks
4- Click on TubeMate YouTube downloader apk and, select to install option.
5- As this application installs. You can easily see the app in the list of all application in blustacks.
6- After Installation Open Tubemate app.
7- Now you can type the title of the video you are looking for.
Now you can enjoy the marvelous experience of having full HD quality videos in your Mac.
Alternatives of TubeMate App for Android
Below is the list of apps that do similar tasks as TubeMate and you can test them and decide for yourself which app to use.

Videmate, Videmate Downloader is an app to download videos from Youtube directly onto your mobile phone, thanks to which you can have all your favorite videos saved within your SD card memory and watch whenever you want. VidMate Main Features:
- Full Movies Download- You can always find latest and hottest movies here.- Provide download sources in different quality, formats.- Cover all genres of movie from Bollywood, Hollywood, and movies in many other languages.

- High Quality Music Download- Support about 500,000 high quality songs- Cover music in Hindi, Tamil, Telugu, Marathi, Bengali, Punjabi, annada, and many other languages..

- HD Video Download- You can search, view, download from hundreds of video sites.- Hottest sites: Youtube, Facebook, Vimeo, Dailymotion, Metacafe, Break, Funny or die, NDTV, Pagalworld, Mp4mobilemovies, and other local hot sites.

- Download cricket world cup highlights from: Starsports, ICC-cricket, ESPNcricinfo,etc.

- Recommended TV shows- You can download Famous TV shows from Channel V, Colors V, SAB TV, Sahara One, Sony TV, Star Plus, Star World, Zee TV.

- Advanced Download Technology - Multiple download- Background download- Download resume- Download stability

- Working Live TV Channels- Collect 200 live TVs, covering Movie, Music, Fashion, News, Entertainment, Sport, and many other kinds of channels.

- Better Download Experiences. Fast and Easily Download YouTube Music and TikTok Videos

- Various Pic Resources: Download Thousands of High Quality Pictures for Free

- VidMate helps you find out and download any types of videos for offline playing.
How to download videos with Vid Mate?
Launch Vid Mate app on your device.
- When it opens completely, you will see a search bar at the top along with top sites below it. You can also see suggested and trending videos on your home screen.
- Now if you want any specific video to download search for it in the search bar. You can choose whether you want all results or just from YouTube or any other category.
- Now click on the video title you want or tap on the download button. Then if you want to download it, tap on the red circular button at the right bottom corner.
- Now select the quality of the video you want to download. The size of the video is shown on the side.
- Tick on the file quality you want and tap download. Your video will be downloaded instantly.
Videoder
, Videoder is actually an alternative to tubemate. It does exactly same and somehow more task than tubemate.
UC Browser
, Latest version of UC Browser lets you download videos from any sites on the internet making it one of the best alternatives for VidMate. UC Browser For Android is the most powerful and most advanced browser for android.
SnapTube
, SnapTube is another app to download videos from various sites and is exactly same as Videoder and Tubemate with most of the feature from vidmate missing. SnapTube doesn't have any new feature or any unique function. It's the matter of personal preference. Some people will prefer SnapTube others will prefer Videoder. You can try both and keep one of them. It's really hard to tell which one is better.
Keepvid For Android
, KeepVid, which was originally available for windows only, has now android version too.
YTD Video Downloader
YTD Video Downloader
software is a comprehensive downloader powerful that it can use to download various videos with the quality of YouTube, Facebook, Vevo and other media sharing pay movies. Various video formats are supported by this app and you will not be in trouble in this area. Working with this software is very simple, just enter the URL of the video you want into the corresponding field, and then click the Download button to make Dunnold's operation automatically. Other features of YTD include converting videos to various formats, this software can convert your movie to formats like iPod, iPhone, PSP, Cell Phone, Windows Media, Xvid and MP3.
Ultimate Video Downloader
: Ultimate Video Downloader app search, watch and save videos directly from internet to your android device. Ultimate HD Video Downloader is a free video downloader for android devices. This free video downloader app allows to download all video formats such as FLV, MP4, AVI, MOV, MPEG, WMV, 3GP, MKV and so on.
Ultimate Video Downloader (free and safe) contains a built-in browser that allows you to navigate different videos on the web freely and easily. Use Ultimate Downloader and enjoy your favorite sports, movies, documentary, health and funny videos on your phone or tablet without Internet connection. A free video downloader, Ultimate HD Video Downloader is a Fastest Video downloader with downloading speed of at least 3x times faster than any other download manager apps.
HD Video Downloader & Browser
: Smart Video Downloader , Multi Tabs Browser, Simple Browse video site in simple UI and easy to use .
Downloads Video Formats : Support all download videos formats like FLV, MP4, AVI, MOV, MPEG,
Fast Hd Videos Downloader
: Easy to use Fast Videos Downloader App. Download Videos in various qualites . Videos Saver. Advance and Fast Video downloader app to watch and download videos from internet. Watch Videos and movies offline. Play and save videos to local with zoom and video player.
Get all type of videos from net, save videos and download movies with this app. Also this app support large size file with all video download options.
Private Downloader
: Private Downloader is a private browsing app with a video downloader that lets you easily save videos and photos from your favorite media sites to your Android. Save all of your downloads in a secure folder, and play back your favorite videos offline with the in-app player. Browse the Internet securely with the full-featured multi-tab private browser. Check out our secure browser and downloader app today for free and discover why it's a favorite among Android users.
All HD Video Downloader
: All HD Video Downloader allows you to download a streaming video from various websites for free. It's the easiest and quickest way to download your favorite videos! This Video Downloader utility detects, downloads and save shared videos directly from Internet to your android device.
Conclusion
To conclude Ytmate | Youtube downloader works on Android operating system and can be easily downloaded using the below download link according to Freeware license. Ytmate | Youtube downloader download file is only 7.9 MB in size.
Ytmate | Youtube downloader was filed under the Utilities category and was reviewed in softlookup.com and receive 5/5 Score.
Ytmate | Youtube downloader has been tested by our team against viruses, spyware, adware, trojan, backdoors and was found to be 100% clean. We will recheck Ytmate | Youtube downloader when updated to assure that it remains clean.
Ytmate | Youtube downloader user Review
Please review Ytmate | Youtube downloader application and submit your comments below. We will collect all comments in an effort to determine whether the Ytmate | Youtube downloader software is reliable, perform as expected and deliver the promised features and functionalities.
Popularity 10/10 - Downloads - 63 - Score - 5/5

Softlookup.com 2023 - Privacy Policy
Category:
Utilities
Publisher:
Devian Studio
Last Updated:
03/28/2020
Requirements:
Android 2.3.2+
License:
Freeware
Operating system:
Android
Hits:
5699
File size:
7.9 MB
Name: *

E-Mail: *

Comment: *