App Overview
IQOS Connect is used to connect your IQOS device, check its status, customize haptics and find your nearest IQOS store. You can connect IQOS with your Bluetooth mobile and set up additional services and notifications in the application, reset or locate the lost device within reach.
- IQOS is not for minors.
- IQOS is not risk-free.
- IQOS is only for adult smokers who would otherwise continue smoking.
- IQOS is not for people who have quit smoking or have never smoked.
- IQOS is not an alternative to quitting smoking.
The best choice for consumers concerned about their health is to quit tobacco use altogether. Built-in Bluetooth in IQOS rechargeable base enables the mobile phone to be connected to IQOS Connect app, which monitors the device - for example, adjusting holder vibrations, resetting the device or finding it.
How to install and use IQOS Connect
-
Download IQOS Connect
from your mobile and save it to you mobile storage, or use your PC to download the IQOS Connect APK and transfer it via cable or via Bluetooth. Currently there are no IQOS connect app for IOS.
- Open IQOS_Connect_3.6.2.apk file on your mobile and start the installation.
- If you have not previously set up on your mobile, you will be asked to allow unauthenticated applications to be installed.
- The IQOS icon appears in the menu, launch the application.
- Confirm your age.
- Allow location tracking without which Bluetooth could not work.
- Activate Bluetooth on your phone and select Connect Device in Connect.
- Activate Bluetooth in the IQOS charger, hold the Bluetooth button for four seconds, IQOS will start blinking blue and will start the Pairing procedure.
- Now in In-App Settings, enable IQOS notifications to get :
a- Notifications alert when the battery is weak
b- Error notifications alert you to an IQOS error.
c- Holder ready alerts on the mobile to finish charging the holder.
d- Holder charging error notifications alert the wrongly typed holder.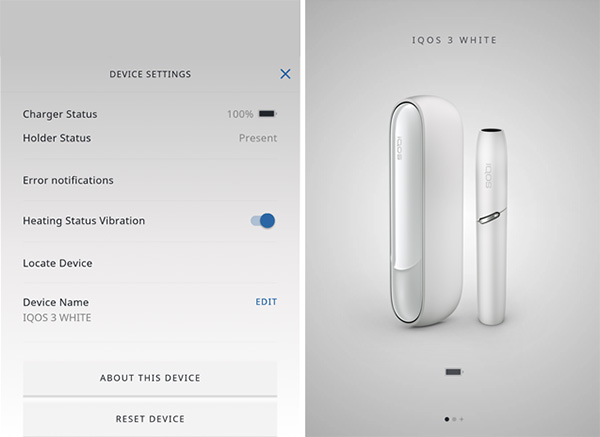 What's New in version 3.6.2
New improvements, more to come - stay tuned!
Application Permissions
- approximate location (network-based)
- precise location (GPS and network-based)
- Wi-Fi connection information
- view Wi-Fi connections
- receive data from Internet
- pair with Bluetooth devices
- view network connections
- access Bluetooth settings
- full network access
- prevent device from sleeping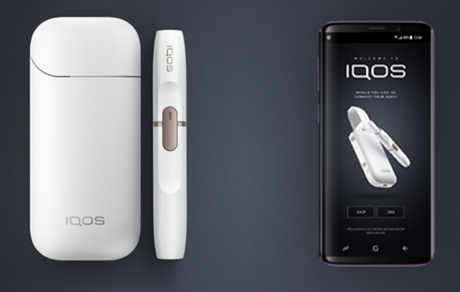 About IQOS Device
IQOS which is an advanced smoke-free product uses sophisticated electronics to heat tobacco in order to release flavors and nicotine.
While the idea of heating tobacco (instead of burning it) has been around for more than two decades, it took years of research and development to create a product that is satisfying to adult consumers. Around 7.3 million consumers have already chosen to switch from cigarettes to this product: our tobacco heating system IQOS.
At the heart of IQOS are sophisticated electronics that heat specially designed heated tobacco units. IQOS heats the tobacco just enough to release a flavorful nicotine-containing tobacco vapor but without burning the tobacco.
Here's the key point: the tobacco in a cigarette burns at temperatures in excess of 600°C, generating smoke that contains high levels of harmful chemicals. But IQOS heats tobacco to much lower temperatures, up to 350°C, without combustion, fire, ash, or smoke. The lower temperature heating releases the true taste of heated tobacco. Because the tobacco is heated and not burned, the levels of harmful chemicals are significantly reduced compared to cigarette smoke.
What is there? A nicotine-containing vapor – not smoke – that makes IQOS a smoke-free product that is appealing to smokers. How does IQOS work?
IQOS is a tobacco heating system available in two versions. The first has three main components – a heated tobacco unit (called HEETS or HeatSticks), an IQOS holder, and a charger. The second is an integrated product that combines the holder and charger and allows multiple uses without recharging the battery.
Both work in the same way: a consumer inserts the heated tobacco unit into the IQOS holder, which contains an electronically controlled heater.
The consumer pushes a button to turn on the heater, and then draws on the heated tobacco unit to enjoy the real taste of heated tobacco. Once the heated tobacco unit is finished, the consumer removes it from the holder, and then it can be disposed of safely in a waste bin. After each experience, the consumer recharges the holder by inserting it into the charger. Play
The heated tobacco unit contains a uniquely processed tobacco plug designed for heating, not for smoking. The tobacco plug is made from tobacco leaves, which are ground and re-constituted into tobacco sheets, called cast-leaf. These sheets are then crimped and made into a tobacco plug.
The holder, into which the heated tobacco unit is inserted, heats the tobacco via an electronically controlled heating blade. The blade simultaneously heats the tobacco to temperatures up to 350°C, while monitoring its temperature to ensure a consistent taste experience and to avoid burning. It also has an over-heating protection mechanism, which turns itself off if necessary. The holder supplies heat to the heated tobacco unit via the heating blade for six minutes or 14 puffs, whichever comes first.
After each heated tobacco unit experience with the original three component heating system, the small battery in the holder needs to be recharged by inserting it into the charger. The charger itself can be recharged from household power sockets. The integrated version must be charged after ten consecutive uses.
Frequently Asked Questions
Where can I use IQOS?
There is no global standard on where consumers can enjoy our smoke-free products such as IQOS or e-cigarettes.
What does IQOS mean?
IQOS is not an acronym but a brand name, created to denote an innovative product.
What are HEETS and HeatSticks?
HEETS, also known as HeatSticks in some markets, is a specially designed product that contains tobacco and is intended for exclusive use with the IQOS holder.
What is IQOS MESH?
IQOS MESH is our next generation e-vapor product that uses a new approach to vapor generation.
How to reset IQOS for chagring problems when the red light flashes
IQOS is fairly new electronics and its manufacturer constantly improves it. But it's not problemless at all. Some problems can be easily resolved by resetting the rechargeable base or restarting the holder. If you have felt, that the holder is charging for too long or if the holder flash with red light after pulling off from the base and not starts to heat the HEETS, you can try restarting before complaint device.
How to restart IQOS
Reset of the charger is pretty simple (this guideline works just for the newest model 2.4 Plus with Bluetooth).
At the same time press Bluetooth and Power buttons for short time and release.
Wait for about 2 seconds to flash all IQOS lights.
Reset is complete.
How to reset holder
You can reset the holder itself. While its exhausted and flash with red light, just hold the button until it goes off. If resetting didn't solve your problems, there is only one solution left - complaints. Visit GeCo or Valmont, any IQOS dealer or contact Customer care center that will send you a new device by courier.
The IQOS flashes red and stopped charging, how to fix or claim Does the IQOS charger or holder flash with a red light? This may be a defect that you remove at home or will need a complaint at the IQOS Store, a sales representative or an IQOS PopUp stand. The most common error on IQOS is the charging error indicated by the red light on the holder or the charger (On IQOS 3 white flash too). An electronic cigarette may have a malfunction or sometimes you need just reset it, try the simple steps to find a fault.
How to proceed with an IQOS malfunction
Verify that the holder is correctly and freely plugged into the charger, always with a light towards the opening. Never pull him with force.
Is IQOS warm? Especially in winter, but also during the cold summer nights, the holder can easily cool down, it is very sensitive to temperature changes. Take it in your hand and, if it's cold, warm it up and then try charging it again.
If the holder is properly plugged in, the cover is closed and the red light is on, connect the charging base. Sometimes it signals one or two dots, but it is already exhausted.
Try resetting both IQOS parts, reset the charging base by pressing the Bluetooth button and the switch, reset the holder after discharging by holding down the button for a long time until it goes out. See how to reset IQOS 2.4+ during recharge issues or How to reset IQOS 3.
Clean the holder at the bottom, the touchpads get dirty sometimes and do not fit properly on the connectors, with plain rubber for example. You can blow up the base where there may be dirt, dust, or scraps of tobacco.
The last advice sounds strange. Wait until you will have withdrawal symptoms. I know a lot of examples where the device start works normally after a few minutes (sometimes hours), and then it works simply as if nothing has happened.
Freeze IQOS? We do not recommend it
There are various mad guides on the Internet that you should put IQOS into the freezer, for example. We do not recommend these solutions, IQOS does not like the cold, it damages the battery, and we think it is only wetting the contacts for short time, which will not solve the problem.
IQOS complaint
Nobody wants this last step. But if you are sure, that you checked and tried everything and nothing worked, you should complain the device. The IQOS complaint can be done in branded shops, pop-up stalls, and the Geco or Valmont shops while you wait. IQOS is exchanged for one piece per piece without more fault detection.
Complaints at IQOS brand stores and in pop-up stalls in shopping centers.
Complaints by calling the IQOS Customer Center.
While claiming you just need to have an IQOS device registered to your account, you do not need a bill or a box. Only have one defective device, the worker will fill in the protocol with you, the Complaint Department will later disconnect the original device from your account and attach new ones. The operation takes only a few minutes.
IQOS Connect has been tested by our team against viruses, spyware, adware, trojan, backdoors and was found to be 100% clean. We will recheck IQOS Connect when updated to assure that it remains clean.