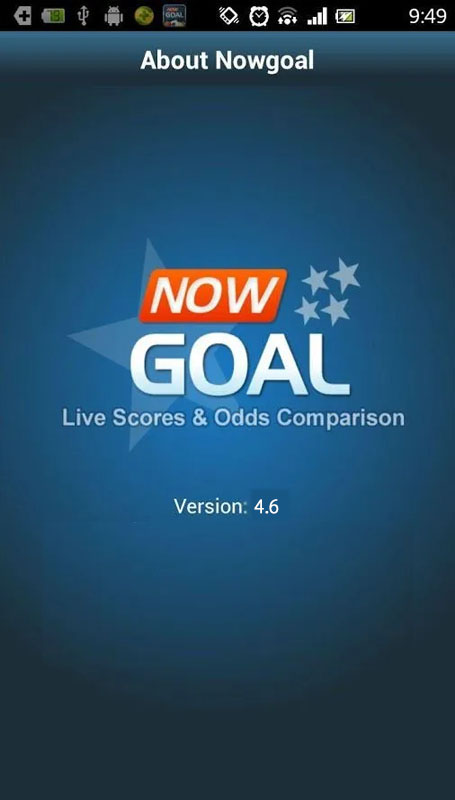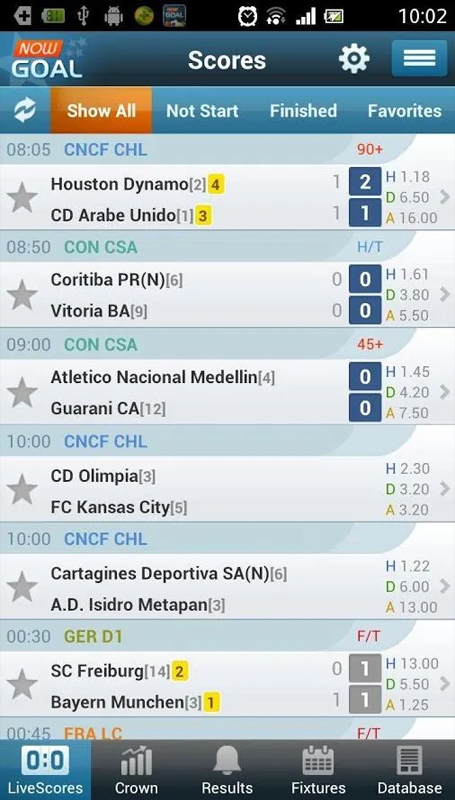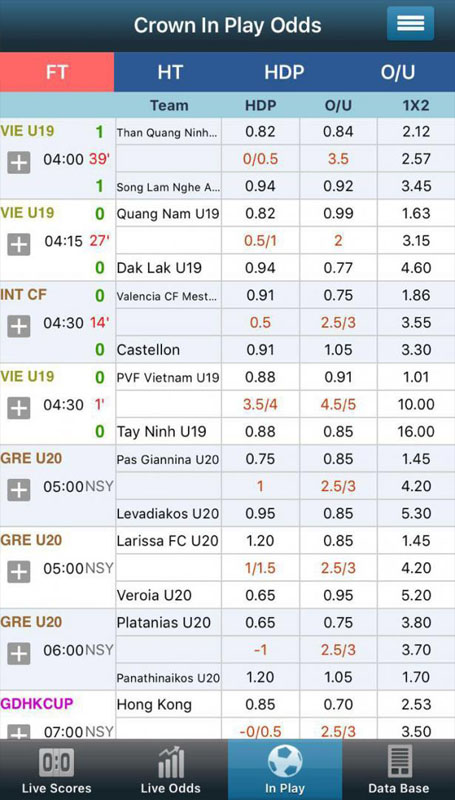 FreeLivescore APK Free Download
FreeLivescore
See live soccer scores and fixtures covering sport across the world. FreeLivescore is the 1st live score service on the Internet.
Application Description:
FreeLivescore Overview
Would you love to have instant access to updates and results for all your favorite sports? Look no further, because FreeLivescore is here to unlock the thrill and keep you at the edge of your seat.
With FreeLivescore, you no longer have to miss any action or wait for the end of a game to find out the score. Whether you're a football fanatic, a tennis aficionado, or a basketball junkie, this platform provides real-time updates and results from a wide range of sports. Get instant notification alerts, stay up-to-date with live commentary, and track player statistics, all at your fingertips. What sets FreeLivescore apart is its user-friendly interface and comprehensive coverage. This platform ensures that you never miss a beat, whether you're at home or on the go. Imagine the excitement of getting live updates as the game unfolds, sharing in the triumphs and heartbreaks of your favorite teams.
Unlock the thrill of live sports with FreeLivescore today and experience the excitement like never before. Stay connected, stay in the game.
FreeLivescore are updated daily with all today's matches with live scores and final results, upcoming matches schedules and match statistics. Find games that are being played today, as well as all major league game scores from around the world! Stay up-to-date with the latest scores and live sports action with real-time delivery of live sport scores and data all in one place. LiveScore is used by millions of users across the Globe for mago sports like football, soccer, tennis, cricket, basketball and hockey.
Follow football live scores and football results from over 1000 football leagues, cups and tournaments and the most popular leagues like German Bundesliga, Italian Serie A, French Ligue 1, Dutch Eredivisie, to other smaller leagues, national cups, UEFA Champions League, UEFA Europa League, UEFA Super Cup, Copa Libertadores, FIFA World Cup, qualifications for world and continental championships, EURO Championship, Copa America, Africa. Follow your favorite teams and players, get live scores and results from all the matches and competitions as well as the latest Football news all around the world.
Livescore today service is real time. It provides goal scorers, video highlights, yellow and red cards, goal alerts and other football live score information live. Check the pitch view to follow the ball, scores and action, so even if you can't watch the match you get the latest scores, results and statistics directly to your device.
Get the latest sports news from all around the world. Do not miss any news about your team matches, line-ups, matches analysis, goals, competition or league they play in. Check all the official transfers, tables, fixtures, results, squad, player profiles and performance stats. Get detailed live match commentary, including goals scored, assists, corners, cards, possession, shots and fouls stats at the match end, ideal for Fantasy Football fans. Get updates from the wicket, ball and stump details in cricket's top matches, to point-by-point and serve updates in the biggest tennis matches on the ATP or WTA World Tours.
Keeping up with NBA games, conferences, play-offs and finals. Get updates from national and international hockey leagues in the USA, Canada and Europe including the NHL. The App also offers much more than that, you will have access to other sports like: tennis, basketball, baseball, hockey, handball, cricket… and a bunch of other ones. We'll focus on soccer of course. This app offers push notifications and has been rather fast during our testing, both in performance and in timely goal alerts. There are tons of offered leagues for you to choose from, you'll be able to find pretty much anything you want. Search and find your favorite competitions across the biggest sports. Follow your favorite tennis players in their quest to become champions at ATP & WTA events and each of the Slams.
Benefits of using FreeLivescore
A livescore is a real-time update of sports scores and results. It allows fans to stay connected to their favorite games, even if they can't watch them live. Livescores provide instant updates on goals, points, sets, and other game-changing moments. They keep fans in the loop and enhance the overall sports viewing experience.
FreeLivescore takes the concept of livescores to the next level by offering comprehensive coverage and a user-friendly interface. No matter which sport you follow, you can rely on FreeLivescore to deliver accurate and up-to-date information.
Main Fatures
- FreeLivescore covers a vast number of sports leagues and tournaments from around the world. Whether you're a fan of domestic leagues or international competitions, you'll find the latest scores and results on this platform.
In football, FreeLivescore covers major leagues like the Premier League, La Liga, Serie A, Bundesliga, and Ligue 1, as well as international tournaments like the FIFA World Cup and UEFA Champions League. Tennis fans can follow the ATP and WTA tours, while basketball enthusiasts can stay updated on the NBA, EuroLeague, and other leagues.
Cricket fans can track scores from international matches, as well as domestic leagues like the Indian Premier League (IPL) and the Big Bash League (BBL). Golf enthusiasts can stay in the know about the PGA Tour and major championships like the Masters and the Open Championship.
- Instant goal alerts from leagues, cup competitions and championships worldwide
- live notifications on your favorite a league
- Keep up to date with the latest transfer news
- Line-ups, live text commentary, tables, fixtures and in-game stats
- Breaking sports news for major sports & leagues
- Detailed match information
- Upcoming matches calendar
- Match statistics and live commentary
- More than 1,000 live football and soccer matches are followed worldwide every week.
- Check all the tournament's results and view upcoming matches.
- Comprehensive mobile LiveScore experience
- Avaialble for android and iOS devices including iPhones and iPads
- No more missed matches and updates
- More than 1000 live football / soccer games followed live every week during the season
- Select your own refresh period
- User friendly
- Time - Date localized
- Very fast and responsive even on slow connection
- Minimal data transfers
- Bandwidth friendly with our data compression
- Lightweight
LiveScore is one of the top soccer apps on the App Store. It's a score tracker for soccer, hockey, basketball, tennis, and cricket, and its coverage is exhaustive. Almost every semi-professional league is included, from top flight European soccer to leagues across Africa, Asia, and beyond.
The information you get includes: fixtures, results, transfers, league tables, and a live match tracker. The app manages to pack in a lot of information in a concise matter, which makes it simple to follow and catch up on news. The notifications also let you follow all the action from your teams, which makes this app a great match day companion.
The app also makes a great match companion, with detailed updates about in-game happenings, statistic breakdowns, and lineup information. The overall user experience is excellent, and it even integrates with the official EPL fantasy soccer game.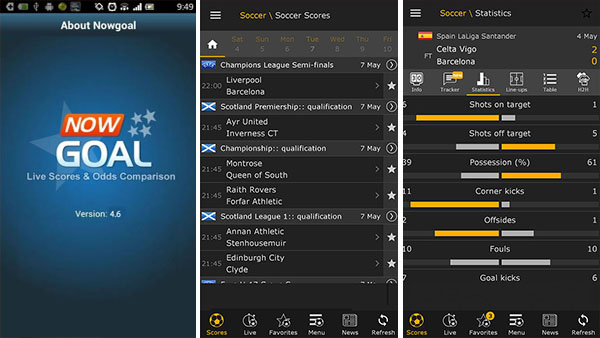 How FreeLivescore works
Using FreeLivescore comes with a multitude of benefits. First and foremost, it provides instant updates and results for a wide range of sports, including football, tennis, basketball, cricket, and more. With FreeLivescore, you can stay connected to your favorite teams and players, no matter where you are.
Another benefit of FreeLivescore is the ability to receive notification alerts. You can set up personalized alerts for specific games, teams, or sports, ensuring that you never miss an important moment. Whether it's a last-minute goal or a game-changing injury, FreeLivescore keeps you in the loop.
In addition to live updates, FreeLivescore also offers live commentary and player statistics. You can follow the game play-by-play and gain valuable insights into player performance. This adds an extra layer of engagement and excitement to the overall sports viewing experience.
Live sports coverage
FreeLivescore works by collecting real-time data from various sources and delivering it to users through its user-friendly interface. The platform uses advanced technology to ensure the accuracy and reliability of the information provided. To get started with FreeLivescore, simply visit the website or download the mobile app. Create an account and customize your settings to receive personalized updates and alerts. You can choose which sports and leagues to follow, and even set up specific notifications for your favorite teams. Once you're set up, you can navigate through the platform to access live scores, results, commentary, and player statistics. FreeLivescore's intuitive interface makes it easy to find the information you need and stay connected to the games that matter to you.
Sports leagues and tournaments covered by FreeLivescore
One of the key features of FreeLivescore is its comprehensive live sports coverage. The platform covers a wide range of sports, including popular ones like football, tennis, basketball, cricket, and golf, as well as niche sports like table tennis, handball, and badminton. No matter which sport you're passionate about, you can rely on FreeLivescore to provide live updates and results. Whether it's the English Premier League, the NBA playoffs, or the Wimbledon finals, FreeLivescore has you covered. Stay connected to the sports you love with just a few clicks.
User experience and reviews
FreeLivescore offers a range of features that enhance the overall sports viewing experience. Here are some of the key features you can expect:
1. Real-time updates: Get instant updates on scores, goals, points, and other game-changing moments.
2. Notification alerts: Set up personalized alerts for specific games, teams, or sports to never miss a moment.
3. Live commentary: Follow the game play-by-play with live commentary and gain valuable insights.
4. Player statistics: Track player performance and statistics to get a deeper understanding of the game.
5. User-friendly interface: Navigate through the platform seamlessly and find the information you need with ease.
Comparison with other livescore services
FreeLivescore is renowned for its user-friendly interface and seamless user experience. Users appreciate the platform's reliability, accuracy, and comprehensive coverage. The intuitive design makes it easy for both casual fans and die-hard enthusiasts to stay connected to their favorite sports. Users have praised FreeLivescore for its fast and real-time updates, as well as the personalized notification alerts. The live commentary feature has also received positive feedback, as it adds an extra layer of engagement and excitement to the sports viewing experience. Overall, FreeLivescore has garnered a loyal user base who rely on the platform for instant updates and results. Join the community today and unlock the thrill of live sports like never before.
Frequently Asked Questions
Q: Where can I find standings for a specific league?
A: Fixtures, Results and Standings (if applicable) for a league can be found by tapping on the header, which contains the name of the league. For example to view Standings of English Premier League tap the "Premier League" header above the first Premier League match.
Q: Your league tables only show number of matches played, goal difference and points for each team. Can you add more detailed information?
A: Additional information is available in landscape mode, just rotate your device.
Q: I subscribed notifications for a specific match, I see the match selected in my app (the star next to the match is yellow), but I haven't received any notifications. What should I do?
A: Make sure that notifications are enabled for LiveScore app in the System Settings, open the app, unsubscribe the match and re-subscribe it again. If this does not help, contact our support so that we can take look at the problem.
Q: Your line-ups are all wrong. Can you fix them?
A: Line-ups change in time and we update them continuously. The most reliable data is usually available 1 hour or less before the match starts. We also show an information about the last time the line-ups were updated and whether they are confirmed, although this information is available for some leagues only.
Q: I cannot find my favorite country or league in the list of matches, can you add it?
A: We are working to extend the list of supported leagues. Sometimes you can still find your favorite league in the list of matches played at a specific date or in the list of leagues of a specific country (available in the Menu). If you find your league there, you can add it to Favorite Leagues to see it everywhere* and always on top.
Q: My favorite league suddenly disappears from the list of matches. How can I prevent it?
A: Add the league to Favorite Leagues and it will never disappear again*, and in addition you will always see it on top.
Q: How do I add a league to Favorite Leagues?
A: Navigate to League Detail page. You can get there from homepage, Live page or country page (available in the menu) by tapping the appropriate header (the row showing the league name). On the League Detail page tap the "Plus" icon in the top right corner. If you return back to home or country page, you will find the league you selected at the beginning of the page.
Q: How do I add a match to Favorite Matches?
A: In the match list tap the star right next to the match or tap the star in the top right corner on Match Details page. As long as the star is yellow, your match is added to Favorite Matches and you will receive notifications for that match.
Q: But I don't want to receive notifications, I just want to see the match in Favorite Matches.
A: You can disable push notifications for LiveScore in the System Settings.
Q: I have noticed an error in your data. Can you fix it?
A: If you find an error in our data, please write to us livescore .com and we will fix the problem.
Q: The matches show wrong start time. How do I change it?
A: Start times are shown in the timezone, which is configured on your device. To change the start times, change the timezone in your System settings. Please note that it is not enough to change the time and keep the old timezone. It is the timezone that needs to be changed.
Q: I added a league to Favorite Leagues and now it appears above another league, which I want to see first. Can I reorder the list of Favorite Leagues?
A: Not at the moment, but we plan to add this feature.
Favorite leagues are only visible on pages, which show matches from a day when the Favorite league has some matches too. For example, if the favorite league has some matches scheduled for Jan 25th and today it is Jan 20th, then the favorite league will not be visible on today's homepage. However, it will be visible on homepage of Jan 25th.
What's new
Font size now changes according to your device settings – thank you to the users who reported this issue.
With the start of the season nearly upon us, we've listened to your feedback and also sped up the loading screen so the season kicks-off in the best way possible.
Recommendations
While there are several livescore services available, FreeLivescore stands out from the competition for several reasons. First and foremost, its comprehensive coverage ensures that you never miss a beat, no matter which sport you follow. From football to tennis, basketball to cricket, FreeLivescore has it all.
The user-friendly interface of FreeLivescore is another key advantage. The platform is easy to navigate and provides a seamless user experience. Whether you're a tech-savvy user or a casual fan, you'll find FreeLivescore intuitive and accessible. Furthermore, FreeLivescore's notification alerts and live commentary features set it apart from other livescore services. The personalized alerts allow you to stay connected to the games and teams that matter to you, while the live commentary adds an extra layer of engagement and excitement.
Conclusion
To conclude FreeLivescore works on Android operating system and can be easily downloaded using the below download link according to Freeware license. FreeLivescore download file is only 5.5 MB in size.
FreeLivescore was filed under the Productivity category and was reviewed in softlookup.com and receive 5/5 Score.
FreeLivescore has been tested by our team against viruses, spyware, adware, trojan, backdoors and was found to be 100% clean. We will recheck FreeLivescore when updated to assure that it remains clean.
FreeLivescore user Review
Please review FreeLivescore application and submit your comments below. We will collect all comments in an effort to determine whether the FreeLivescore software is reliable, perform as expected and deliver the promised features and functionalities.
Popularity 10/10 - Downloads - 790 - Score - 5/5

Softlookup.com 2023 - Privacy Policy
Category:
Productivity
Publisher:
Developer
Last Updated:
25/11/2023
Requirements:
Not specified
License:
Freeware
Operating system:
Android
Hits:
4320
File size:
5.5 MB
Name: *

E-Mail: *

Comment: *